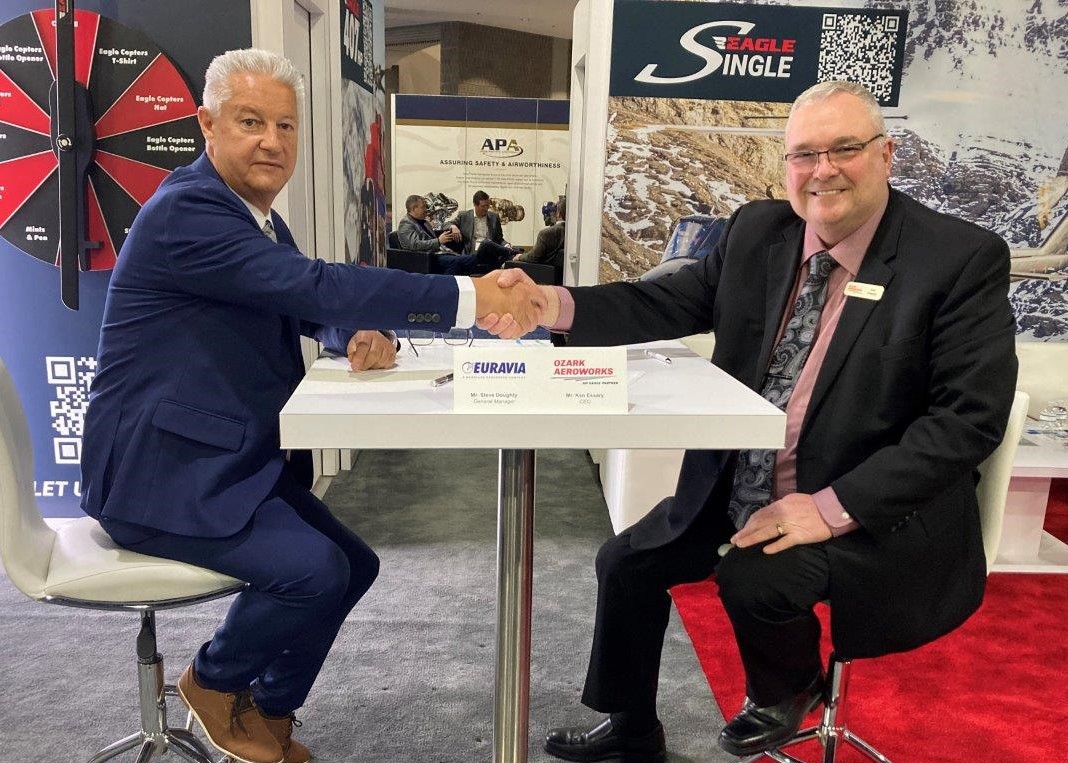 9 March 2023
EURAVIA NORTH AMERICA AN OZARK AEROWORKS AUTHORIZED COMPONENT REPAIR CENTER FOR OZARK MODEL T53 ENGINE COMPONENTS
HeliExpo, Atlanta, GA – 9 March 2023 – Euravia North America ('ENA"), a Magellan Aerospace Company, signed a 5-year licence agreement with Ozark Aeroworks, LLC ("OAW") today, authorizing ENA to provide depot level repair and overhaul service for OZARK MODEL T53 engine components. The signing replaces an agreement that was inked with Honeywell International Inc in 2019.  OAW acquired the Honeywell T53 engine line in December 2021, establishing the company as the new Ozark Model T53 engine OEM.
Commenting on the agreement, Mr. Steve Doughty, General Manager, Euravia North America, said, "Our team of experienced industry experts at ENA has been supporting the T53 engine component repair and overhaul for more than 20 years and is pleased to finalize our license agreement with Ozark."  "We look forward to building on our relationship and expanding our service offerings for this important customer", he concluded.
Mr. Ken Essary, CEO, OZARK AEROWORKS, stated "ENA possesses a great deal of component repair capability and is an experienced partner.  Our team is excited to continue our journey of building a strong and lasting partnership for the OZARK MODEL T53 and working with ENA to improve our overall support to the market", he concluded.
Euravia's North American location is an FAA/EASA approved repair and overhaul facility, focused on providing high quality services to operators of small gas turbine engines. Located in Glendale, Arizona, Euravia's climate controlled facility is equipped with an extensive array of equipment to support engine components manufacture, repair, and overhaul and offers customers impeccable quality, world class turn times, and outstanding value.
 About Euravia
Euravia Engineering and Supply Co. Ltd, and Euravia North America are wholly-owned subsidiaries of Magellan Aerospace Corporation. Euravia is internationally recognized as a Centre of Excellence for engine maintenance, repair and overhaul and component R&O and supports over 150 customers in 50 countries.
About Magellan Aerospace Corporation
Magellan Aerospace Corporation is a global aerospace company that provides complex assemblies and systems solutions to aircraft and engine manufacturers, and defense and space agencies worldwide. Magellan designs and manufactures aeroengine and aerostructure assemblies and components for aerospace markets, advanced proprietary products for military and space markets, and provides engine and component repair and overhaul services worldwide. Magellan is a public company whose shares trade on the Toronto Stock Exchange (TSX: MAL), with operating units throughout North America, Europe, and India.
 For information:
Ms. Laura Podaima                                         Mr. Lindsay Stillwell
Director, Corporate Communications             Plant Manager and Chief of Engineering
Magellan Aerospace                                       Euravia North America
Ph. 1 204 228 3719                                        Ph. 1 623 931 7265
laura.podaima@magellan.aero                      lindsay.stillwell@magellan.aero